Vibration Isolation Materials
VibraFoam
A moisture resistant polyetherurethane cellular foam vibration isolation material available in sheets or strips for full surface application between structural components.
These materials exhibit highly linear characteristic at recommended loads with low dynamic stiffness without significant variance in stiffness at temporary peak loads. The special properties of the material make it resistant to fluids. The product is selected based on the expected static and dynamic loads. 13 standard types of Vibrafoam materials of different thickness, density and capacity characteristics are available for a wide range of applications. This wide range of products ensure optimal vibration isolation and noise insulation over a wide range of installations. Standard product colors indicate product characteristics. The material can also be applied in a two-layer configuration for maximum reduction of the transmission of and structure-borne noise and vibration.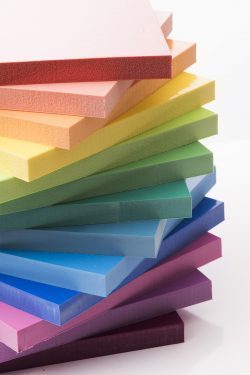 Characteristics
Near linear load deflection characteristics.
Minimum compression set (<5%) even after peak loading.
Color coded for simple identification.
(13) standard products of different density and thickness.
Oil and fluid resistant.
Quick and easy installation.
Used in residential, office and commercial buildings.
Temperature application range -22°F to -158°F (-30°C to 70°C)
UV and ozone resistant
Very good elongation values, tear strength, and resilience.